The truth is, prior to writing this blog post, I have only gone through some of the free blogging courses on this list.
I have come to know all these highly successful mom bloggers through their paid courses and being on their mailing list for close to two years.
But to make sure I was making my most truthful reviews for your benefit, I went through each of every one of these incredibly useful free blogging courses so that I can give you my two cents' worth on each of them.
Actually, since all these blogging courses are free, you don't really have anything to lose by going through them right?
But because I know you are busy mom bloggers, like me, who have to manage your kids, household, and everything else under the sun, I know you have very limited time.
This is why I have done up this list to give you a run-down on each of these free blogging courses to help you better decide which one you want to dive into first.
My blogging journey in short
I hosted my first blog on Strikingly.
To be honest, it was a breeze setting a new site on Strikingly. The drag and drop feature made it incredibly easy to use and the layouts were beautiful.
But after attending several blogging courses, I realized there were important monetization features that were lacking.
As much as it was painful to leave behind my original blog and start afresh, I knew the only way my blog could truly grow into a business was for a major overhaul to take place.
Therefore, I made the decision to switch to Bluehost and WordPress. Then I got the shock of my life because the learning curve of using WordPress was so steep I felt paralyzed!
I held back on my site migration because it just seemed too difficult to use WordPress.
That dragged on for another two months when I slowly put up two new posts on my new WordPress blog while generating more blog posts on my old site.
Yet I know I was missing something by not fully utilizing WordPress.
So, I finally made a serious commitment and pushed myself to learn the ins and outs of WordPress and lo, and behold! My blog traffic jumped in the next two months!
It was also helpful that the support staff at Bluehost readily answered all my newbie questions and helped me along with the setting up process.
The process was tougher than I had imagined but I'm so glad I bit my teeth and pulled through.
Why am I telling you this?
Because I don't want you to follow in those footsteps of mine.
I want to help you save time and money so that your dream blog business can thrive in the fastest time possible.
Please take all the incredible tips and tricks shared in these highly informative FREE blogging courses seriously. You will NOT regret it.
Related posts:
20+ Best Blogging Courses To Help You Start Blogging For Money
7 Questions To Find Out If Blogging For Money Is For You
The Best Step By Step Guide To Blogging For Beginners
20 Best Free Blogging Courses For New Bloggers
Free blogging courses on how to set up a new WordPress blog
This course goes into detail which will help you overcome all your fear and worries about the technical aspects of blogging as a brand new blogger.
But before you dive into the act of blogging, you should most definitely go through the 10 questions to ask yourself before starting a blog.
Chelsea gives honest and brilliant tips that will make sure you are starting a blog with both your eyes open!
Knowing what lies ahead will definitely better equip you with the skills to overcome the challenges ahead!
Furthermore, the 10 basics of successful blogging in this course are also incredibly helpful to new bloggers to make sure you start blogging on the right foot.
Because Chelsea has the experience of running multiple blogs, she is the best person to tell you the differences among the various blog hosts so that you can make an informed decision when choosing your web host.
This course also includes tutorials on how to set up Bluehost, Lyrical, and Siteground. Just think about the amount of time this valuable information will save you from having to Google about each of them!
The best part about this course is that it also shows you how you can make money from your blog, even as a beginner blogger!
The step by step instructions make it super easy to follow.
I would strongly recommend that you take the time to go through this course and follow exactly as Chelsea recommends.
By the end of one month, you not only will have a beautiful and functional blog, but you could also already be making money, too!
You will be totally blown away by the amount of information that you are getting in this free blogging course.
As I went through the course, I was actually thinking to myself, "How can this course even be FREE??"
This course contains detailed step by step instructions on the technicality of setting up a blog.
Furthermore, Kimi also walks you through finding your reasons for blogging so that you actually start your blogging venture on the right foot and with the correct expectations.
She then guides you on building a roadmap for your blog so that you are focused on the right objectives and priorities.
Kimi will open your eyes and make you fully prepared if you do decide to take on blogging as a business.
To be honest, the content of this course can also be found in other premium blogging courses which would otherwise cost you hundreds of dollars.
I just wish I had come across this sooner because it would have definitely saved me money on some other courses!
Kimi definitely didn't stinge on dishing out professional and super-actionable advice in this course.
For new bloggers, you definitely have to take this course!
In this course, Carly goes through step by step from the technical stuff about setting up your blog to how you can make money from your blog.
The screenshots included in the course will be very helpful especially to brand new bloggers who are petrified by the number of technical details involved in setting up a WordPress blog.
Carly's course, and all the other courses I have listed here, will take away all the pain and worry about setting up a WordPress blog. Yes! Even for totally inexperienced new mom bloggers, like I was!
I really love that Carly is always so direct in the way she speaks through her course content.
She doesn't sugarcoat her words yet she comes across and sincere and truly wanting to help you succeed the best way she knows how.
Apart from the technical skills and tips that she has provided in this course, she has also included many incredible resources that will help you fast track your way to blogging success.
Free blogging courses on how to increase blog traffic and master SEO
When I first started blogging, I just wrote to my heart's content.
I thought I was good enough a writer for people to want to read my articles.
Even if that were really true, without SEO, my articles would just be floating in the midst of a bajillion others on the internet!
Now, who would read my fantastic writing if they cannot even FIND it?
There are some successful bloggers who have said that beginner bloggers don't have to worry about SEO until 6 months to 1 year of blogging.
I believed that but boy, did I learn the hard way!
Because if I had put SEO as a priority, I would have saved at least 8 months of my time fumbling around with my new blog!
Now, that's a costly mistake.
In this course, Chelsea has absolutely crystallized the big concept of SEO and made it really easy, even for beginner bloggers, to understand and grasp.
She has basically provided with you a roadmap to make sure your blog is built for SEO. All you have to do is follow it!
This will definitely skyrocket your process of getting a brand new blog recognized for Google's traffic!
This is an incredibly comprehensive course on building a resource library for your blog.
Unlike what some bloggers might advocate getting readers to sign up to their mailing list in order to get free resources, Kimi is suggesting complete free access to her brilliant resources!
It baffles me at first, but through this course, you will understand exactly why setting up a free resources library is actually a great way of growing your mailing list and attracting targeted audience.
After all, you don't just want people on your mailing list who are constantly after your freebies but unwilling to fork out a single cent for high-quality products and courses.
What you want is knowing what your readers are interested in and make a more targeted pitch to them after you build your credibility with them.
This course also provides step by step guidance on how to create landing pages and setting up automated email sequences to make sure that your readers not only benefit from your resources library, you also build your sales and customer base.
This is a 5-day email course where Lena shares about her experiences and how she has grown her blog and traffic over the years.
Her personal experiences are incredibly valuable and by gaining insights from her, you will save years of fumbling around and have a jump start to building a blog that will gain traffic in months!
Lena's Traffic Transformation guide is one of her signature courses.
It is an incredibly useful handbook that teaches you all about SEO, growing your blog traffic, and writing the right kind of blog posts to attract the right audience.
The Traffic Transformation guide is a result of her years of exploration and achieving real results online.
It is also a guide that you will keep referring you in the months to come as you grow your blog traffic to achieve your ideal income goals!
Before you pick out your wallet to invest in Traffic Transformation guide (which will be totally worth it, trust me) you have the option of getting a sneak preview through this Free Blog Traffic Bonus Guide right here!
Adventures in SEO is Lena's signature course and is highly raved by many successful bloggers.
This course would definitely be the next step to take after going through Traffic Transformation because the information is even more thorough in this course.
Also, you get to have personal interaction and mentorship by Lena when you sign up for this course!
For a sneak preview of this premium course, check out Adventures In SEO (Free Trial) Pinterest And Google SEO Lessons right here!
Free blogging courses on graphic design for bloggers
From a designer's point of view, Kimi shares brilliant and actionable tips on how to improve graphic design for your blog.
She talks about using the right colors to accentuate the message that you want to convey and how typography can improve your blog design.
Do note that Kimi doesn't talk about designing in Canva though. She has her reservations about using Canva for business purposes and prefers the various Adobe programs for doing graphic design.
Not to worry, because Kimi provides many video tutorials on how to use Adobe to create designs.
The step by step instructions make it really easy to follow through, even for complete beginners!
This course will leave you feeling like you have taken a giant leap in learning about graphic design!
For new bloggers who are non-designers, it can be very intimidating to think about the huge amount of designing work that you actually have to pick up in building your blog.
Kara provides some really neat tips and tricks on getting yourself familiarized with Canva so that you can get to your graphic design work ASAP!
There is no doubt that Kara not only knows graphic design like the back of her hand, she is also great at teaching other bloggers how to master the skills for graphic design!
This is definitely a course that you want to set aside time to go through after completing the set up of your blog.
You will take about 1.5 hours to complete the entire course. At the end of it, you will know exactly what kind of graphics will look good on your blog and be equipped with the right tools to create beautiful graphics!
Instead of going through trial and error to find out what type of graphic design will make your blog look professional and beautiful, you should just go straight to Kara's course and get all your questions answered.
This is such a precious FREE blogging resource that all new bloggers should have access too!
I promise you that you will save hundreds of dollars purchasing other templates and tools if you would just check out this blogging resources library!
It contains everything you need to get started and more!
Free blogging course on digital product creation
If you are thinking of selling your own digital products but have absolutely no clue what and how to sell, then you must definitely take up this free blogging course.
Kara goes through step by step instructions on how best to decide what digital product to sell, how to create them, and more importantly, how to market them.
What I love most about this free course is that she provides a product launch checklist that is really helpful to clueless beginners, like who I was.
This is a straightforward course that you can go through in under 30 minutes but will leave you feeling so much clearer in which direction you are headed for digital product creation.
Free blogging courses on Pinterest marketing
As a blogger who has absolutely zero experience in graphic design, I had to spend a lot of time figuring things out and making messes as I fumbled my way through.
Thankfully, there are many free online programs that have made it easy for even new bloggers with no background in design to create various graphics for their blogs.
One very popular graphic design program is Canva. One very important medium to build your blog traffic in the shortest time possible is Pinterest.
Put them together, you are on your way to a thriving blog business!
In this free Canva training course, I have put together step by step videos that will help you learn how to use Canva to design beautiful and click-worthy pins in minutes!
You can basically use this free tool, Canva, to drive free traffic from Pinterest and start making money from your blog today!
I love Carly's signature course – Pinteresting Strategies. I gained incredible insights through that course which I have not come across in other Pinterest courses.
Believe me, because I have paid for a handful of Pinterest courses myself.
Through Carly's Pinteresting Strategies course, I felt like my understanding of Pinterest as a platform for my blog business has been brought up to a whole new level.
The course has given me specific strategies on how to master the Pinterest game to skyrocket my blog traffic.
It has provided me with a roadmap on how and what I should be pinning.
So, if you ask me, I would recommend that you jump straight to Pinteresting Strategies.
But, since we are looking at free blogging courses, I would strongly recommend that you go for Carly's Pin Template Starter Kit.
This Starter Kit includes 12 free pin templates and video tutorials on how to design pins that will drive traffic to your blog.
This is a concise summary that will help you gain an understanding of what makes a good pin.
But if you want the whole nine yards to mastering Pinterest for gaining free blog traffic, then it would be Pinteresting Strategies.
If you have been reading around about Pinterest marketing, you should be familiar with Pinterest group boards.
Even though some bloggers might put less emphasis on group boards these days and focus more on their personal boards, it is still a brilliant idea for new bloggers to get into these group boards.
Monica has made this task extremely easy for beginner bloggers by providing you with this free list of Pinterest group boards so that you can quickly find the right group boards to join.
This will definitely help you fast track the growth of your Pinterest account and blog traffic!
Monica Froese is THE mom blogger to go to if you want to look into running paid campaigns on Pinterest.
But I understand that as a new mom blogger with a limited budget, you probably want to exhaust all your free options first before investing your money.
Therefore, my advice would be to take up Monica's Pin Practical Ads, a completely FREE Pinterest marketing course that will help you set your foundations right.
Monica is a great coach and her step by step instructions make it incredibly easy to follow and understand what you should and should not be doing on Pinterest.
You will have to set aside time to go through these three videos which are about an hour-long each.
But the information in each video is so valuable you want to make sure you catch every word Monica says and make lots of notes!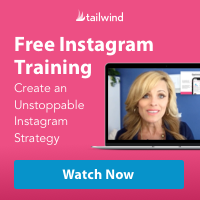 This is a power-packed free blogging course with the main objective of helping you monetize your blog by using Pinterest.
In this course, Monica goes through the basics of setting up a Pinterest business account, the anatomy of a click-worthy pin, and even how to create pins and printables using Canva.
In this case, the whole idea of using Pinterest is not just to drive free traffic to your blog, it is also to help you grow your blog income!
This course will show you the exact steps on how to funnel your readers so that they become buyers!
The videos are incredibly detailed and there's simply SO MUCH to learn about Pinterest from Monica.
Don't miss this amazing free blogging course on Pinterest marketing!
There you go! A list of 20 best free blogging courses that will truly help you in setting up a blog and making money by working from home!
My best recommendation is that you sign up for all the courses listed above. After all, they are FREE!
Then based on my summary above, decide which course you want to get started on first.
But it's always wise to learn from more than one successful blogger because they each have a unique success story!
Even though many of the tips and tricks that they teach are similar, you can still gain different insights from each blogger mentor.
Moreover, you might be inclined to one mentor's style and niche over another! So, do keep an open mind and learn from as many successful bloggers as possible!
If you need more personalized recommendations on which course to sign up for first, leave your comments below and I will get back to you ASAP! I'd love to help you make an informed decision that will save you both time and money. =)
You will also be interested in:
Disclosure: This post contains affiliate links, which means I may earn a commission if you click through and make a purchase, at no additional cost to you.