Since our previous wildly popular post on over 40 sets of free printables for preschoolers as fun indoor activities, we are now back with another great list!
To help homeschool moms engage their preschoolers with fun and educational activities here is a collection of over 30 sources providing you with free printable homeschool worksheets and endless ideas of fun homeschool activities to engage and entertain your children at home!
Related posts:
Fun And Customizable Weekly Activity Planner For Kids (FREE Printable!)
17 Fruity Fun Preschool Colors And Numbers Worksheets
8 Free Motivational Posters For Kids
80+ Fun And Easy Screen-Free Indoor Activities For Kids
30+ Free Printable Homeschool Worksheets And Fun Homeschool Activities Your Kids Will Love
Free Homeschool Planner Printables And Organization Tips
Printable Homeschool Planner For Distance Learning by Mama Cheaps
An easy-to-use visual schedule to help even your youngest learners stay on task!
Fun And Customizable Weekly Activity Homeschool Planner
A fun and easy to use weekly planner that engages your children in planning the homeschool activities for the week!
Printable Daily Task Schedule By Mama Cheaps
Kids thrive best on structures and routines. Therefore, having this printable daily task schedule will help a lot in getting the children to function at their best every day!
Free Printable Homeschool Planner By Living Life And Learning
Get your homeschool organized so you can accomplish more each day with this free printable homeschool planner
Rainbow Stars Monthly Calendar 2020
Help your children keep track of the dates and months or count down to the end of home quarantine with these cheerful Rainbow Stars Monthly Calendar 2020! Sign up here to get the calendar for FREE!
Tips For Homeschool Room Organization by Saving Talents
Are you trying to organize your home office or a homeschool room, or even just a room where your kids can do their homework and read books? Check out these tips and see how this homeschool family organized theirs!
Free Homeschool Printable Worksheets And Activities
Free Homeschool Printables Resource Library
Get free and unlimited access to printable worksheets, planners and activities in this Free Homeschool Resource Library with new printables added every week!
A+ Teaching Resources Free Archive
An incredible archive of free preschool worksheets that are fun and educational!
Free Presidential Handwriting Sheets by Wander Homeschooling
A fun way to practice handwriting and learn about all our presidents at the same time.
Free Psalm 91 Copywork by Wander Homeschooling
This printable Psalm 91 copywork will allow your kids can learn scripture while they practice their handwriting!
3 Free Printable Shark Worksheets by Simple Everyday Mom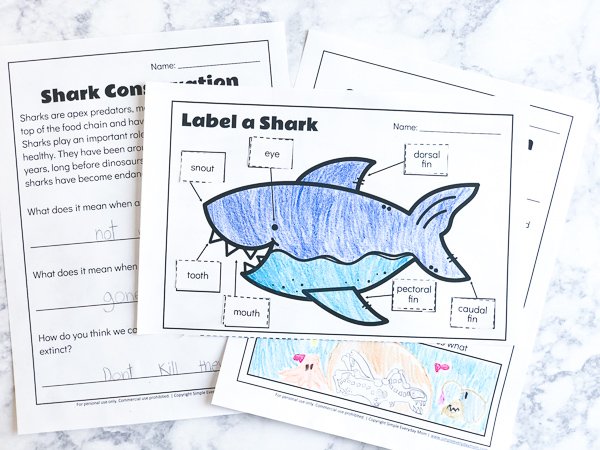 Teach young kids all about the parts of a shark, plus the importance of shark conservation with these free printable shark worksheets.
25+ Free Printable Word Searches by Crayons & Cravings
Over 25 different word searches for kids that you can download and print out. Includes seasonal, holiday, and general themes of word search printable puzzles such as colors, days of the week, dog breeds, zoo animals, and more!
Camping Party Kit by California Camp Life
Stuck at home? No problem! How about camping in your own backyard or even in the living room? These printables will make an indoor camping party much more fun!
Free Printables by All About Baby Blog
40 Worksheets for preschoolers. Sign up for free access!
Our Pizza Card Game will teach your kids about pizza ingredients, counting, memory and more! This is a fun and educational homeschool resource that your kids will certainly enjoy!
Free Printable Germ Worksheets by Simple Everyday Mom
Talk to your kids about germs and the human body then work on these fun germ worksheets for kindergarten.
Woodland Animals Printable Game For Kids by California Camp Life
Your children will love this fun game with animals that they would see when out camping.
Complete Collection Of Elements Of Art Resources by The Kitchen Table Classroom
Whether you're teaching your own kiddos at home as a homeschool mom or you're an art teacher trying to get the message across to a crowd the elements of art are a good place to start. They're basics, building blocks for fun stuff to come!
Fruity Fun Numbers And Colors Worksheets
Teach your child about colors and the numbers one to ten with these fun printable worksheets!
Free Printable Fish Bowl Play Dough Mat By Special Learning House
Playdough mats are one of my favorite learning tools! This free printable fish bowl playdough mat will help your child build fine motor skills, have some sensory fun and learn new vocabulary.
Percy Jackson Word Search by The Soccer Mom Blog
Your young reader will love this Percy Jackson Word Search inspired by the Percy Jackson & the Olympians series!
Free Continents And Ocean Learning Printables Pack by Simple Living Creative Learning
This free Continents and Oceans printable pack is a fun way to learn about the seven continents and five oceans that make up the world we live in.
Free Printable Montessori Animal Matching Cards
These Animal Matching Cards will teach your children to match life-like images of animals to their names in both English and Chinese!
Alphabet Worksheets A To Z by My Three Kids
Alphabet Worksheets A-Z For Your Beginning Reader – Perfect for Young Learners of the ABC's!
DIY Inside Out Board Game by DIY Instant Impressions Travel Services
A game with an opportunity to discuss feelings in a fun way!
Online Homeschool Resources
101+ Online Ways To Keep Kids Learning by Two Kids And A Coupon
A list of free educational websites to keep your children learning even when at home.
50+ Free Educational Websites For Kids by Mama Cheaps
Enjoy learning activities, virtual tours and field trips, explore the National Parks, create art and music, check out the International Space Station and SO much more!
Learn About Colors With These 7 YouTube Video For Kids by Special Learning House
If you are looking for some videos to help you teach your child at home, you would like these YouTube videos that teach colors.
Giant List Of Free School-At-Home Resources by Saving Talents
Here's a huge list of free resources that you can use to help teach your children when they're home from school!
Craft With Kids Archive by The Inspiration Edit
A ton of easy craft ideas for kids that will engage them in a fun and meaningful way!
Don't forget to sign up to gain free and unlimited access to hundreds of fun and educational printables in our Homeschool Resource Library!
You will also be interested in:
9 Essential Solutions To Help Stressed-Out Moms